Notice
: Trying to access array offset on value of type null in
/var/www/vhosts/france-science.org/faid-college-station2020.france-science.org/wp-content/plugins/js_composer/include/autoload/vc-shortcode-autoloader.php
on line
64

Notice: Trying to access array offset on value of type null in /var/www/vhosts/france-science.org/faid-college-station2020.france-science.org/wp-content/plugins/js_composer/include/autoload/vc-shortcode-autoloader.php on line 64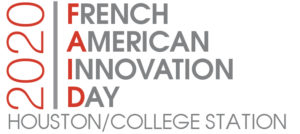 Rapid advances in smart manufacturing technologies, consisting of bridging manufacturing processes with novel sensors and the Internet of things, together with those in data science and AI, are central to the vision of Industry 4.0. The market size for smart manufacturing and AI technologies is set to surpass $500 billion by 2023, and this has opened unprecedented opportunities for the industry and academia to partner to elevate the innovation ecosystem.

The Office for Science and Technology is glad to invite you to the French American Innovation Day on Smart Manufacturing and AI for Industry 4.0. Organized jointly by Texas A&M Engineering Experiment Station (TEES), the French Arts et Métiers Institute of Technology, and the Office for Science & Technology of the French Embassy (OST), this event will take place in College Station on February 13th, 2020.

This 2020 edition will focus on topics such as smart sensors, advanced AI and data science, additive and advanced manufacturing, digital twins and AR/VR, cybersecurity and advanced computing paradigms and marketing strategies for Industries 4.0.
---
French-American Innovation Days, organized since 2001 by the Office for Science and Technology of the Embassy of France in the United States, are events that bring together prominent American and French experts / researchers / companies / startups / consultants / investors to move forwards on science, innovation and technology topics.

The FAID program includes:
– Expert scientific talks;
– Short presentations of American and French startups;
– Poster presentations and networking times.